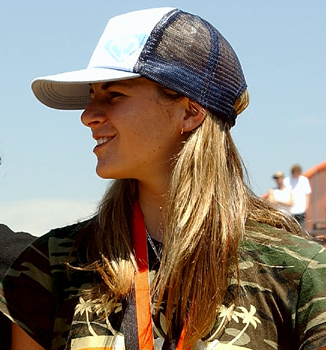 The triathlon of a new generation, the Ultimate Boarder Championship is a one-week competition to find the athlete who can conquer the art of surfing, skateboarding and snowboarding. The competition was created in response to the growing popularity of these sports, and as a way to promote healthy, athletic lifestyles among young people. All in a positive and competitive environment that grooms role models and heroes for our country's next generation.
Basically it's one crazily tough competition and Lyn-z Adams Hawkins is the only female competing in the 2009 triathalon style surf, skate and snow competition beast.
Running from April 4th to 11th and with $58,500 prize money up for grabs, all set in California – it's going to be a beauty.
Good Luck Lyn-Z.
p.s. Check out last years skate video highlights here.